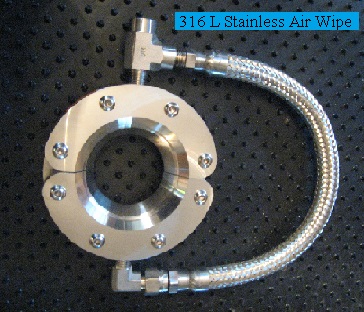 Nex Flow, Canada: Engineered Compressed Air technology to improve productivity, plant health / safety and optimize energy use.
NEW for 2018: Expanded Range of Ring Blade Air Wipes PLUS 316 STAINLESS AIR WIPES, 316 STAINLESS NOZZLES, 316 SS EDGER FLAT JET, and 316 SS UL /NEMA/IP ENCLOSURE COOLERS !
Added for 2018 to the other Stainless products offered by Nex Flow: Air Knives, Ring Vac Air Conveyors, Air Amplifiers, OSHA compliant Air Nozzles and UL Listed NEMA rated Electrical Panel Coolers used in Food, pharmaceutical, Beverage, chemical and other industries requiring Stainless products.
Welded Stainless Vortex Tubes

---

WELDED Stainless Steel Vortex Tubes with superior performance only a precision machined Brass Generator can provide. NO Plastic Parts ! Highest rated cooling in the industry. New expanded product offering, cooling to 10180 BTU/Hr.

X- Stream Air Knives

---

ANODIZED Aluminum with STAINLESS hardware and Stainless Shim. No PLASTIC HERE ! Mill Spec Hard Anodized and all Stainless construction also available. Silent X-Stream Series and Standard Series.

Ring Blade Air Wipes

---

New all 316 L Stainless construction now available from stock ! Also available in Clear ANODIZED Aluminum Finish with Stainless Shim and Stainless Fasteners as standard construction. High temp version also available. Efficient 360 Degree coverage, infinitely adjustable force and velocity.

Air Conveyors

---

Convey parts, materials and waste. Draw vacuum to vent / exhaust processes. Simply with NO moving parts ! Available in Anodized Aluminum, Mill Spec Hard Anodized and Stainless Steel including 316L. Available with hose (slip) ends or threaded.

Air Amplifiers

---

AM series and Adjustable Air Amplifiers in Anodized Aluminum or Stainless Steel. Vent, Cool, Exhaust, Dry.

UL Listed NEMA Rated Electrical Panel Coolers

---

Announcing NEW 316 Stainless Panel Coolers! UL Listed NEMA and IP Rated: 12, 3R and 4/4X. All rating are constructed of stainless steel. Available with Electronic or mechanical thermostat options.

Spot Coolers

---

Spot Cooling: Frigid X Tool Coolers and Adjustable Spot Coolers. STAINLESS construction at the price of Aluminum.

Static Elimination

---

A complete line of Static Elimination products specifically targeting the industrial manufacturing sector. Offering multiple solutions: Ion Blowers, Ion Bars, Ion Air Knives and Hand Ion Gun Ion Nozzles and New Ion Beam Blaster. We invite you to compare the function, engineering and construction features of our Industrial Static products.

Air Jets, Nozzles and Manifold Systems

---

Nex Flow introduces the New Air Mag Nozzle, world wide Patent Pending design. Nozzles reduce Compressed Air consumption, noise and reduce energy costs and ALL are OSHA compliant. Improve the health and compliance in your plant.

Safety Air Guns

---

Nex Flow Safety Air Blow Off Guns: Durable, safe & comfortable to use incorporating our efficient Air Nozzles and Air Jets. OSHA Compliant !

Speciality Products

---

Stream Vac Fume / Particulate Extraction System. Drum Angel 55 Gal Drum Vac/Pump, Sub Zero metered COLD Lube system for the machine shop, and Blind Hole Cleaning Systems. All with NO moving parts !

Optimization Products

---

Take control of your plant Compressed Air with the Nex Flow offering of Air Optimization products: Ultrasonic Leak Detector, PLC Flow Control, Air Flow Meter and Sound Level Meter.

Pneumatic Accessories

---

EXPEL Filter, Magnetic Bases, Electronic Temperature Control, STAINLESS Swivel Fittings, Thermostats, Reclassifying Mufflers, Solenoid Valves, STAINLESS Stay Put Rigid Flex Hose, Liquid Super Separator ( Check it out ! )