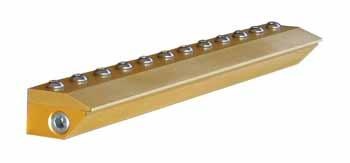 Nex Flow's X-Stream Air Knife, is the next generation of Compressed Air Knives. Easy to Mount and maintain, it reduces both Compressed Air consumption and noise levels. It is the most efficient design yet achieved in Compressed Air Knife technology. The X-Stream Series Air Blade / Air Knife uses less air and is quitter than the standard series.
Nex Flow manufactures only quality Compressed Air Knives for industrial applications with construction unsurpassed by any other manufacturer.We invite you to compare the better value of the Nex Flow products !
Nex Flow is the ONLY manufacturer to ANODIZE their Aluminum Series Air Knives for protection in industrial environments, standard construction also features STAINLESS STEEL Fasteners and STAINLESS STEEL SHIM as standard. NO PLASTIC components are used in the Nex Flow Air Knives. Construction offers multiple Compressed Air inlets, depending on length and additional drilled and tapped holes that can be used for mounting. Also available in Mill Spec. Hard Anodized Aluminum and all Stainless Steel. In stock at standard lengths.
Complete PDF Literature / Technical information and PRICES available here in the download section.

The Original Standard Series Nex Flow Air Knife is smaller dimensionally then the X-Stream. It produces a "laminar" flow of air along its length using the "Coanda" effect. The Air exits the slot orifice and turns 90 degrees which "entrains" a large volume of air from the surrounding area. Available in ANODIZED Aluminum with STAINLESS SHIMS and STAINLESS HARDWARE or all Stainless Steel.
GM Series Air Knives
| | |
| --- | --- |
| | Nex Flow offers the GM Series Air Knives, which produce the strongest force available. The GM series consists of the Nex Flow Edger Flat Jets mounted on a manifold. The Edger Flat Jets provide variable performance with interchangeable Stainless Shims for a powerful Laminar Flow. |
[ First ] [ Prev ] [ Next ] [ Last ]