The Nex Flow Ring Vac Air Conveyor is available in both ANODIZED Aluminum, Heavy Duty HARD Anodized or ALL STAINLESS STEEL. Simply clamp a standard hose size to each end of the Ring-Vac™ to create this high energy conveying system. No moving parts for maintenance free operation with capacity and flow controlled with a pressure regulator.
Known as Hopper Loaders or Venturi Loaders, originally designed to eliminate manual bending and lifting. Conveying rate depends on density of material ( Lbs / cubic foot ), horizontal run, vertical lift. These vacuum conveyors provide a simple, low cost solution compared to other pneumatic conveying systems
Complete PDF Literature / Specifications and PRICES available here in the download section.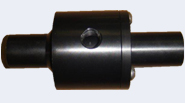 Nex Flow X-Stream™ Air Conveyors - Heavy Duty Pneumatic Conveying System: Available in standard and threaded versions for heavy duty applications. Designed for conveying materials over a longer distance both vertically and horizontally. Made of hardened anodized aluminum it helps prevent premature wear that could occur either an ordinary anodized aluminum or stainless steel Ring-Vac™.
Ideal for Regrind, Hopper Loading, Clean out / Clean up, Color Change overs, etc. All STAINLESS, in stock. Nuts, Seeds, Salt, Sprinkles, Spices, etc.
[ First ] [ Prev ] [ Next ] [ Last ]