Air Jets, Air Nozzles and Edger Flat Jet

Nex Flow announced NEW in 2016, the Air Mag Nozzle! Unique world wide Patent Pending Design to assist in focusing supply line and entrained air to a more sharp Laminar Flow with the highest force per SCFM on the market. Reduces both compressed air energy use and noise levels as compared to open blow off as well as outperforming similar star style nozzle designs !.
Expanded product offering of OSHA Compliant Air Nozzles and Jets. Now available, 304 and 316 Stainless Nozzles, Jets and 2 inch wide Edger Flat Jet .... from stock !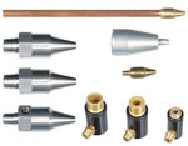 + OSHA COMPLIANT +
Nex Flow removes the confusion from air nozzles. You do NOT need hundreds of different nozzles. All air amplifying nozzles produce air flows up to 25 times the compressed air consumed. Different nozzles have different outlet sizes and the more air used, the greater the force produced. Noise reduction up t0 10 dBA is typical as well as reduced air consumption when compared to open jets and tubes. The most important reasons to use air nozzles or jets is safety All Nex Flow Air Nozzles and Jets meet OSHA standard CFR 1910.242(b) for dead end pressure. Noise levels are dramatically lower with air nozzles and jets in addition to lower energy use. Nex Flow nozzles are designed to fit into small spaces. Nex Flow Air Nozzles reduce compressed air energy, and provide strong laminar flow for blowoff applications. Air Nozzles are the smallest amplifiers for point applications. Air Jets are larger than nozzles and used when a wider area needs to be hit with the amplified air. They are significantly more efficient than nozzles although often use as much compressed air.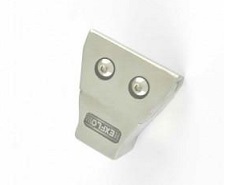 Edger™ Flat Jet: An extremely efficient flat jet air nozzle designed to provide a powerful stream of high velocity laminar flow and high force for blow off and cooling. The 2 inch wide Edger™ provides variable performance with interchangeable Stainless Shims. Available with various size "gaps" , three standard shim sizes are available - .004" (.10 mm), .008" (.2mm) and .020" (.51 mm). One, two or more shims can be "stacked" for a larger gap and greater force. When bench tested against several other flat jets, even those with special designed holes or shims, the Air Edger™ Flat Jet outperformed them all....NEW 316 Stainless, in STOCK !
Complete PDF literature / Specifications and Prices available here and in the download section.
Manifold Systems
| | |
| --- | --- |
| | GM and LR manifold mounted Systems, combining either the Edger Flat Jets or Nozzles. Available in either aluminum or all Stainless Steel. When the job requires more force and velocity for: cleaning, drying, part rejection, product movement, high speed systems, etc. |
[ First ] [ Prev ] [ Next ] [ Last ]